EarlyAct FirstKnight (or EAFK) is a year-round, daily educational program for elementary and middle school students that teaches high moral character traits and important social skills.
Themed around the exciting world of gallant knights and chivalry from Arthurian literature, EAFK was created by Randall Parr and is designed to be sponsored by participating Rotary Clubs and their community partners.
EAFK helps young students develop excellent personal qualities that have proven to reduce disciplinary referrals and bullying (up to 75%), as well as reclaimed classroom teaching time (~45 minutes per day). This translates into improved academic performance, more positive interpersonal relationships, a superb learning environment and an exemplary campus culture.
EAFK is owned and operated by The Knights of The Guild, an educational subsidiary of The Randall Parr Organization, Inc.


EAFK General Manager
Amber Parr
210-216-2217
amber.parr@me.com
EAFK Client Support
Saskia Herbst
210-649-9540
saskia.herbst.tx@gmail.com
Charnell Bratton
210-389-2937
ladycharnell.eafk@gmail.com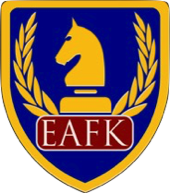 Book a Speaker for your Rotary Club
To schedule a speaker to make a presentation on EAFK to your club or group, contact Saskia by email at saskia.herbst.tx@gmail.com