EarlyAct FirstKnight (or EAFK) is a daily Social Emotional Learning/Character-Building program for elementary and middle school students.
Sponsored by local Rotary Clubs, EAFK teaches and trains classroom students of all backgrounds in how to become civil, service-oriented people during their most formative years.
EAFK is themed around the most noble knights of history and literature - role models of various eras and cultures who lived by personal codes of high ethical standards and performed extraordinary deeds of service to humanity.
We combine proprietary elements, such as year-round campus visits by trained knights wearing authentic period armor; a daily online classroom curriculum; student mentorship by local Rotarian leaders; spectacular school-wide knighting ceremony/reward events; faculty training; outstanding client support; and, many optional components including parent education and even on-campus performances by our knights and live, costumed, warhorses.
EAFK is owned and operated by The Knights of The Guild, a subsidiary of The Randall Parr Organization, Inc.


General Manager/Randall Parr Org
Amber Parr
210-216-2217
amber.parr@me.com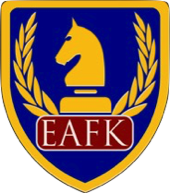 Book a Speaker for your Rotary Club
To schedule a speaker to make a presentation on EAFK to your club or group, contact Amber at amber.parr@me.com