EarlyAct FirstKnight® (or EAFK) is a daily program for elementary and middle school students that develops excellent character during their most formative years. Created by Randall Parr, EAFK is offered to qualified schools through the sponsorship of participating Rotary Clubs and their community partners.
Visually themed around the exciting world of gallant knights and chivalry, EAFK uses a combination of proprietary elements that work together to motivate successful student involvement, reduce teacher workloads, and encourage parental support from home. EAFK offers a new kind of learning experience, including:
- year-round campus visits by our staff knights in medieval armor;
- live-action dramatic presentations at schools featuring knights and horses;
- student service project guidance by local Rotarian leaders;
- an exclusive online curriculum with daily, ten-minute lessons;
- colorful school-wide student knighting ceremonies;
- parent education;
- faculty training in program implementation;
- excellent year-round client support;
- up to 100% financial sponsorship for qualified schools.
EAFK is owned and operated by The Knights of The Guild, an educational subsidiary of The Randall Parr Organization, Inc.
Managing EAFK's daily national activities, Knights of The Guild also provides the curriculum, staffing, scheduling, show productions, trained horses and logistical support that makes EAFK unique. Visit The Knights online at www.randallparr.com.


EAFK General Manager
Amber Parr
210-216-2217
EAFK Client Support
Saskia Herbst
210-649-9540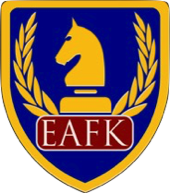 EAFK's all-new Social Skills lesson plans will supplement our character-building curriculum beginning in the Fall of 2018.
NEW! The Littlest Warhorse Live Campus Presentation
Call us to book a visit by Victoria, "The Littlest Warhorse", at your campus this semester. Victoria is a miniature horse, not much bigger than a large dog. Students will enjoy meeting Victoria in person and hearing about how she learned to overcome advsersity in a friendly way.