EAFK makes professionally-produced products designed to heighten visibility of our program on campus. You are welcome to make your own, or obtain any of the items shown below for your convenience. To order, just send an email enquiry to amber.parr@me.com and we will contact you with details.
EAFK Character Trait Posters
Character trait posters come in sets of twelve, and may be placed throughout your campus. Each vibrantly-colored poster is 11" x 17", and highlights one character trait with a brief definition.
Price: $70 plus shipping for one set of twelve posters. Order as many sets as you like.
EAFK Large Banner
Our large, 2'x6' vinyl banner is often used in entry ways or on the knighting ceremony stage. Grommets attached for hanging.
Price: $265 plus shipping
EAFK Award Medallions
Standard Medallion - $2.85 each
Order of The Black Prince Medallion - $2.85 each
Price: $25 plus shipping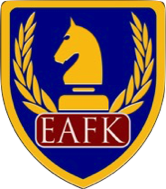 EAFK Spirit Sticks
Motivational awards for students found demonstrating selfless deeds of kindness on campus. 3.25" x 0.5"
Price: $1.00 each plus shipping (500 minimum)