EarlyAct FirstKnight (or EAFK) is a daily program for elementary and middle school students that develops high moral character and SEL skills.
Themed around the exciting world of gallant knights and chivalry from Arthurian literature, EAFK was created by Randall Parr and is designed to be sponsored by participating Rotary Clubs and their community partners.
EAFK helps young students adopt excellent personal qualities that have proven to reduce disciplinary referrals and bullying (up to 75%), as well as reclaimed classroom teaching time (~45 minutes per day). This translates into improved academic performance, more positive interpersonal relationships, a superb learning environment and an exemplary campus culture.
EAFK is owned and operated by The Knights of The Guild, a subsidiary of The Randall Parr Organization, Inc.


General Manager/Randall Parr Org
Amber Parr
210-216-2217
amber.parr@me.com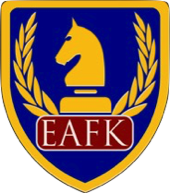 Book a Speaker for your Rotary Club
To schedule a speaker to make a presentation on EAFK to your club or group, contact Amber at amber.parr@me.com
Our communications with client-schools about how EAFK will look at the beginning of the school year have resulted in a variety of responses from administrators, ranging from charging ahead as usual with no anticipated changes, to preparing for whatever restrictions the government may recommend for students in the Fall and adapting their EAFK program accordingly for each school. The overall outlook to launching EAFK at nearly all of our campuses, however, has been resilient and positive.
Since our online curriculum can easily be used in class or at home, the main concern we have found among administrators is what form will knighting ceremonies take to begin the new school year in view of potential unknowns. We have prepared several flexible options for schools to choose from in order to adapt to whatever changes may be necessary. These possible options for knighting ceremonies include, but are not limited to:
- NO CHANGE, wherein a full year of knighting ceremonies will be scheduled for a campus while leaving room for date changes, if required;
- SOCIAL DISTANCING FORMATS, such as, (a) conducting additional knighting ceremonies for fewer students (at no additional charge); (b) outdoor knighting ceremonies; and (c) hybrid learning, in which as our knights will visit individual classrooms or residences to confer medallions to individual student awardees;
- CONTINUED LOCKDOWN. Hopefully, this scenario will be limited or avoided. Should it not be, however, virtual EAFK knighting ceremonies can be held in cooperation with each school's administration. Virtual knighting ceremonies (conducted successfully last semester by several EAFK campuses) are recorded video segments made for each campus, including personalized segments provided by our knights. After the virtual ceremony is broadcasted, student award medallions can then personally delivered to students by way of a coordinated family meeting at the campus, or even at their doorsteps in safety by our knights.
There are many options through which students can be rewarded for their EAFK achievements. There is little we cannot arrange for. We may have to do things differently for a while, but will resume normal operations when safe to do so.
We believe that it is important for students for us to maintain some sense of normalcy during this challenging time. Our commitment to EAFK schools is to do whatever is necessary and think in terms of "even if's" instead of "what if's".